What is LNG (Lottery Number Generator) ?
LNG is a program designed to help you play the South African National Lottery by supplying you with
random selected numbers between 1 and 49, in addition to your own selected numbers.
It also manages your entries (tickets) for you and has the ability
to update draw results and dividends over the Internet or manually.

More Features Main LNG Site Registration & Cost Screen shot
Play the South African Lottery Online!
What's new on 24/03/2012
Updated results
LNG Version 2010 is available for download
! - This is a free upgrade for version 3.x registered users.
Older news
Registered users please note: An upgrade from version 2.x to 2010 is not a free upgrade. Details here. You old registration key will not work.
New features included in version 2010:
Various small bug fixes around Result Downloads - move to new version of compiler
| | |
| --- | --- |
| Random number selection (free) | Checking of winning numbers against your played numbers |
| Storing and retrieval of more than 5000 tickets with 8 boards each | Draw result history with graph |
| Internet retrieval of draw results (winning numbers-free) | Internet program update check (free) |
| Combination calculations | Number exclusions |
| Continuous 'spin' mode | Draw results printing |
| Number draw frequency statistics with print and sort option | Numerology calculations |
| Printing of tickets | Export results to .csv format (Excel) |
| Various number draw statistics | Include up to 5 Own numbers |
| Pattern Analysis | Supports Lotto Plus |
| Backward Own Number Checking against past draws | View Consecutive Numbers |
| Force Consecutive Number Generation | Select Start-From Number |
If you're in a hurry, go get LNG on the download page!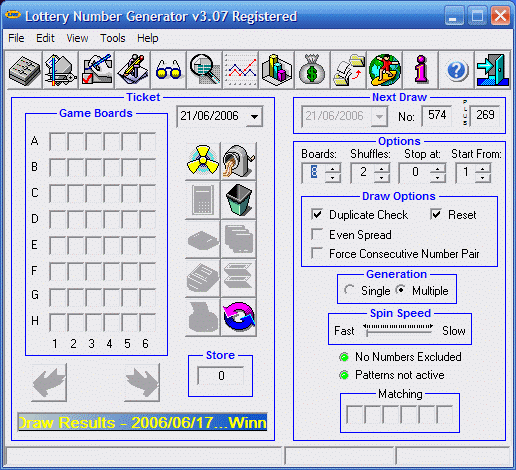 Screen shots taken on Windows XP. LNG will look different on older versions of Windows

System Requirements

Windows 98 or Windows NT 4.0 or Windows 2000/XP or Windows ME

Internet Explorer 4.0 or above
At least 32mb RAM
Requires at least 3mb of free disk space
Pentium I or AMD K6 class processor or above
SVGA screen

Windows 95 users: It is possible to use LNG on Windows 95.
Follow the instructions on the Download page.

Why use a number generator?
Because you are lazy!? Maybe...
If you are choosing numbers you will probably try and cover the whole board. When doing this, you may not select numbers following each other or only high/low numbers. If you always play the same numbers, this generator is not for you!

How does it work?
This generator uses the numbers 1 to 49 like a deck of playing cards. It will shuffle the numbers the same way as a dealer would shuffle a deck of cards. You can use a number of variable options to increase the unpredictability of the shuffling.
This means that the program works similar to the actual Lotto machine with the balls. The balls start off in the same sequence every time. The randomness of the whole thing is the human intervention that selects a ball when a button is pressed. The time from release of the balls to the actual button pressed, gives the machine a chance to really mix up the balls (assuming they all weigh the same). The program works similar to the quick pick option.

Comments/Problems/Suggestions

Disclaimer of Warranty


THIS SOFTWARE AND THE ACCOMPANYING FILES ARE SUPPLIED AS IS AND WITHOUT WARRANTIES AS TO PERFORMANCE OR MERCHANTABILITY OR ANY OTHER WARRANTIES WHETHER EXPRESSED OR IMPLIED. Because of the various hardware and software environments into which Lottery Number Generator may be put, NO WARRANTY OF FITNESS FOR A PARTICULAR PURPOSE IS OFFERED.
Good data processing procedure dictates that any program be thoroughly tested with non-critical data before relying on it. The user must assume the entire risk of using the program. ANY LIABILITY OF THE PROVIDER WILL BE LIMITED EXCLUSIVELY TO PRODUCT REPLACEMENT.




Copyright AJ Vosser 2000-2007